Regular price
$1,188.00 USD
Regular price
Sale price
$1,188.00 USD
Unit price
per
Sale
Sold out
Introducing Socially Suite: Your All-in-One Social Media Marketing & Content Dashboard

Are you ready to elevate your social media game and supercharge your online presence? Look no further than Socially Suite, your ultimate monthly membership for all things social media marketing and content management.
Say goodbye to the time-consuming chore of creating content for your business on social media and managing multiple platforms – with Socially Suite, we've got you covered!

Why Socially Suite?

In today's virtual world, a strong social media presence is essential for any business looking to thrive and grow. However, juggling multiple platforms and consistently producing engaging content can be overwhelming. That's where Socially Suite steps in to become your ultimate social media marketing shortcut.

What's Included?

Socially Suite is your one-stop solution for effortless and effective social media marketing. Here's what you get with your membership:

1. Done-For-You Content: Our MVP Daily content is designed to captivate your audience and keep them coming back for more. But we don't stop there – we also provide a daily industry/niche post tailored to your specific market. This means you'll always have fresh, relevant content at your fingertips.

2. Marketing Dashboard: Take control of your social media strategy with our intuitive marketing dashboard. Schedule and publish your content with ease, ensuring that your brand's message reaches your audience at the perfect times.

3. Business Growth: By automating your social media marketing with Socially Suite, you free up valuable time to focus on what you love most – growing your business. Whether it's developing new products, engaging with customers, or refining your strategy, we've got your social media covered.

Key Benefits:

- Efficiency: Streamline your social media efforts with a centralized dashboard that simplifies content scheduling and publishing.

- Consistency: Maintain a consistent online presence with daily MVP content and industry/niche posts that keep your audience engaged.

- Expertise:  Benefit from our industry expertise and stay up-to-date with the latest trends and best practices.

- Time Savings: Spend less time managing your social media accounts and more time on strategic tasks that drive your business forward.

Join Socially Suite Today:

Ready to take your social media marketing to the next level? Join Socially Suite today and experience the convenience of having a dedicated partner in your corner. Our monthly membership empowers you to harness the full potential of social media without the hassle.

Invest in your business's growth and success. With Socially Suite, you're not just getting a marketing dashboard; you're gaining a competitive edge in the digital world.

Don't wait – start automating your social media to grow your business with Socially Suite. Join us now and watch your online presence flourish!
Digital Delivery

Our products are instantly delivered on the thank you page after checkout. You will download a PDF with a How To and all of your deliverables.
Have These Scheduled

NOTE: This bundle DOES NOT INCLUDE our best-selling scheduling software Socially Suite.

Save time with social automation. Check out our Socially Suite Dashboard where we automatically schedule these plus our MVP content for you to approve to automatically post to all of your networks.

***If you purchase BOTH a dashboard membership AND this content bundle, then we are happy to schedule it for you for free. Just reach out to us when you are ready for our help! :)
No Refunds or Exchanges

Due to the fact that all of our products are instantly delivered as digital products we do not offer refunds. Please be sure to look at the images of the product as they are a fair representation of what is included as well as read the full description. If you have any questions please reach out via chat before ordering.
We Love Feedback

We appreciate your ideas and feedback and would love to know what works best for your industry and how you have adapted the ideas to fit. Any feedback you can share will help to improve future planners.
Share
View full details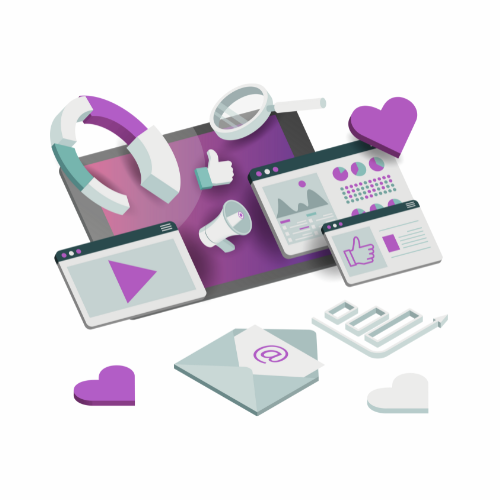 Your Complete Social Media Marketing & Content Solution.
Automate your social media to grow your business with a marketing dashboard that schedules and publishes the perfect mix of done-for-you content, so you can focus on the things you love to do in your business.
Effective, hands-off social media marketing where we handle the:
Strategy

We leverage our 25 plus years of expertise to create and publish content that is not only attractive but that is also relevant and effective.

Content

We curate and deliver the perfect mix of content daily to attract more people to your profiles and engage more of your target audience.  

Posting

You choose the networks and we'll handle the rest... delivering three daily high-impact posts to the networks of your choice.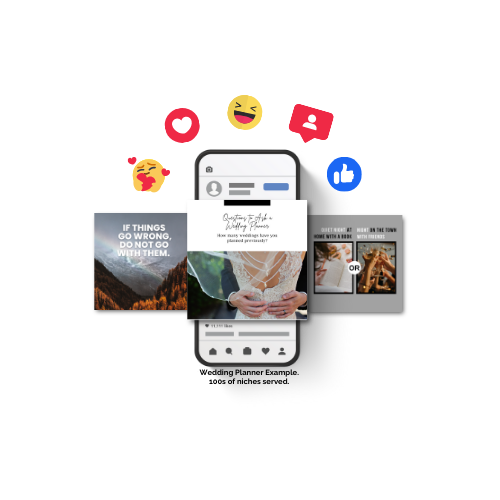 Welcome to the Suite Life... Your social media is DONE!
Living the Suite Life means no more worrying about what to post, trying to write catchy captions, searching for the perfect graphic, or forgetting to post altogether.
It's time to focus on what you do best and let us handle what we do best... Your marketing!
Social Media Marketing for Virtually any Industry
Our social media content includes a daily mix of our MVP Strategy content to Attract, Engage, and Connect with your audience plus industry specific content. Choose from our done-for-you niche bundles to create the perfect social media presence. New industries are being added weekly. 

What makes Socially Suite unique?
Hands Off

Our team and software curates, brands, and publishes up to 3 daily posts as your business to all of your profiles.

Professional

With over 25 years of experience, our team knows exactly how to help your business stand out.

Accessible

You don't have to sacrifice quality to save thousands of dollars on your marketing each month.

Effective

Our proprietary blend of content will get your business more visibility, clients, and sales.
Watch How Stress Free Social Media Can Be
Socially Suite is right for you if...
You're a Small Business Owner

If you're a small business owner looking to grow your brand's online presence, Socially Suite is your one-stop solution. It eliminates the need for multiple tools, providing you a comprehensive platform for all your social media needs.
You Struggle with Content Creation

Content creation can be daunting and time-consuming. With Socially Suite's expertly crafted content following our MVP strategy, you can consistently post engaging content that resonates with your audience.
You Want to Leverage User-Generated Content

If you're interested in capitalizing on the authentic reviews, testimonials, and photos from your customers, Socially Suite makes collecting and sharing this content a breeze.
You're Looking to Launch Social Campaigns

From contests and giveaways to employee advocacy campaigns, Socially Suite simplifies the process of launching, managing, and measuring the success of your social campaigns.
You're Struggling with Managing Multiple Platforms

Our seamless integration with various email service providers and CRM platforms centralizes your operations, saving you time and reducing complexity.
You Need Better Insights into Your Social Media Performance

Socially Suite provides comprehensive social reporting, allowing you to understand your social ROI and make data-driven decisions.
You Want to Identify and Leverage Your Brand Advocates

With our smart share buttons, you can identify who your top influencers are and understand how they can drive more traffic to your brand.
You Need Reliable Customer Support

If you're a business owner who appreciates having dedicated customer support to assist you at each step, Socially Suite is for you. Our team is always ready to help you succeed in your social media marketing journey.
Join the thousands of small businesses who have amplified their social media presence with Socially Suite. Get started today!
Getting started is as easy as 1. 2.. 3...
1. Purchase Your Membership

Add your membership to cart and checkout. Once your payment is processed, we'll immediately send simple instruction on how to create your business' Suite inside Socially Suite. 

2. Connect & Approve

You'll be prompted to connect your profiles / networks, upload your logo (to watermark your content), and choose from our done-for-you niche bundles to create the perfect marketing mix. 

3. Sit Back, Relax, & Grow!

We'll handle the rest... filling your dashboard with high-impact content- just click to post. You'll always have a month or more of content that is easy to edit and approve!
Effortless social growth is in the details...
Modern Strategy

Our MVP Strategy will capture, engage, and sell your audience on you!

Transparent Platform

You'll have full access to our platform so you can always see the content available.

Affordable On Purpose

We're a highly experienced, wickedly efficient team... that keeps costs down.

Powerful Technology

The technologies we use allow for the best possible collaborative workspace! 

Exceptional Support

Most 1st timers can't stop raving about how great our customer support is! 

No Contracts

You're always free to go but we know you'll want to stay forever!