As a small business owner, you've probably noticed the incredible number of marketing challenges that come along with running a business.
Every social media platform pops up newer features for you to leverage and your competitors bounce from one trend to another like ping pong balls.
It's no wonder why so many small biz owners are feeling overwhelmed and stressed by their current marketing efforts - after all, juggling all those moving pieces takes a lot of work!
But keep reading to find there are solutions out there for any challenge big or small. Here, we'll discuss 20 common marketing struggles that small business owners are facing every day - and how they can be easily overcome!
20 common marketing struggles that small biz owners are facing
Which one of these 20 small business marketing struggles is your biggest?
I have a limited budget for marketing and advertising

I struggle to reach my target audience

I face competition from larger businesses

I lack an understanding of digital marketing techniques

I find it difficult to measure the effectiveness of my marketing efforts

I have limited resources to create marketing materials

I struggle to create a unique brand identity

I find it difficult to stand out in a crowded market

I have difficulty keeping up with constantly changing technology and trends

I have limited ability to track and analyze customer data

I struggle to create and maintain a strong online presence

I have limited ability to personalize my marketing efforts

I find it difficult to build and maintain relationships with customers

I have limited understanding of SEO and how to improve search rankings

I struggle to create and implement a successful social media strategy

I have limited access to market research and customer insights

I find it difficult to create and distribute engaging content

I struggle to create and execute a successful email marketing campaign

I find it difficult to build and maintain a reputation and positive brand image

I have limited ability to adapt to and capitalize on industry changes and disruptions.
These are all things we've heard our small business owners in the Socially Inclined Community express concern over, so if you can relate to several (or all of them) don't feel like you're alone! Starting a business is exciting... Running and growing a business into something truly successful can be scary.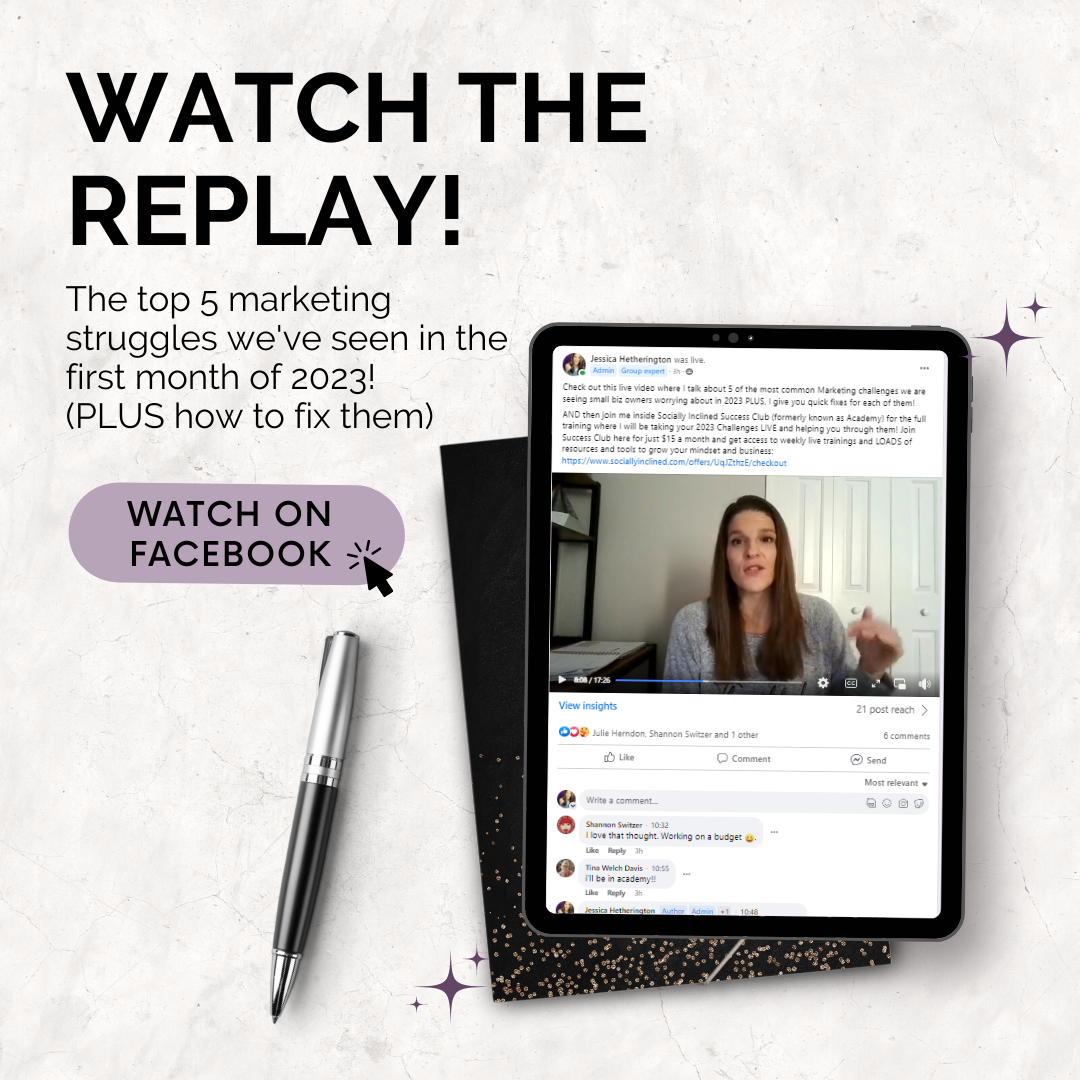 Fortunately, we have the solution to overcoming each of these hurdles!
20 solutions to a small business owner's biggest marketing struggles!
Set a clear budget for marketing and advertising and stick to it. Look for cost-effective ways to reach your target audience, such as social media advertising.

Identify your target audience and research the best ways to reach them. Use customer data to create targeted marketing campaigns.

Differentiate your business by highlighting unique features and benefits. Leverage word-of-mouth marketing and customer testimonials to build trust.

Invest in learning digital marketing techniques, such as SEO, social media, and email marketing. We have on-demand trainings and tools on all things digital marketing inside Socially Inclined Success Club! Get started for just $15 a month.

Use analytics and tracking tools to measure the effectiveness of your marketing efforts. Continuously monitor and adjust your strategies to improve results.

Be creative with your marketing materials by repurposing content, using user-generated content or leveraging free design resources.

Develop a unique brand identity by identifying your brand's mission, values, and personality. Consistently reinforce this identity through all marketing efforts.

Stand out by positioning your business as a leader in your industry. Leverage PR, Influencer marketing, and events to get noticed.

Stay informed about industry trends and technology by subscribing to industry publications and resources like Socially Inclined's Blog and attending relevant trainings (like weekly marketing class inside the Social Success Club).

Invest in a CRM system to track and analyze customer data. Use this data to personalize marketing efforts and improve the customer experience.

Develop a comprehensive online presence by creating a professional website, active social media profiles, and a blog. Optimize your website for SEO. Stay on top of everything by outsourcing and automating your social media marketing for just $99 a month!

Personalize your marketing efforts by segmenting your customer base and creating targeted campaigns for each segment.

Build and maintain relationships with customers by providing excellent customer service, regularly communicating with them, and asking for feedback.

Optimize your website and content for SEO by researching keywords, creating high-quality content, and building backlinks. Learn about SEO, keywords, and content creation with us in Success Club!

Develop a social media strategy by identifying your target audience, choosing the right platforms, and creating engaging content. Use paid advertising to reach a larger audience.

Use market research and customer insights to inform your marketing decisions. Survey customers and analyze industry trends.

Create engaging content by providing value to your target audience. Use a variety of formats, such as blog posts, videos, and infographics.

Develop an email marketing strategy by segmenting your email list, creating engaging content, and using A/B testing to improve results.

Build and maintain a positive reputation by consistently delivering excellent products or services and addressing customer complaints promptly.

Stay informed about industry changes and disruptions, and be prepared to adapt your business model and marketing strategies as needed.
Despite being a great challenge, small business owners are up to the task of facing these issues together. Taking the necessary steps to ensure success can be daunting, but with the correct approaches and strategies, everything is possible.
It all depends on how creative, tactical and results-driven you can be with your initiatives. We must remember that when it comes to marketing for a small business, there are no miracle solutions or silver bullets: hard work will be rewarded.
With this in mind, it's important to stay relentless on your objectives and focused on what matters most for your business.
Which one of these problems are you facing this year? Comment below so we can help you out as best as possible!
We hope you have enjoyed learning more about several marketing problems that small biz owners face and their corresponding solutions. In any case, don't forget that we have each other's back and help is always near. Happy marketing!
-Julie & Jess
Two women on a mission to help you clear the chaos and craft your dream business!
Need more help? We got you! Here are 5 ways we can start working together today!
👉 Download the FREE Your Social Plan and treat yourself to some done-for-you (DFY) engaging content!  https://www.sociallyinclined.com/free-calendar
👉 Join a community of like-minded women entrepreneurs. Join the women-in-business movement, list your products & services, and get connected with Grit Grind & Grace!
👉 Start your Your Social Plan membership today to get 3 posts scheduled for you every single day! https://www.sociallyinclined.com/your-social-plan
👉 Learn how to write AHHHmazing content that attracts your people and gets them to buy! Become an Academy Member and join us for a PRICELESS weekly Content Class! Learn more here.  
👉 Need step-by-step instruction, how-tos, and tutorials on some of the most important tasks you need to grow your business online? Get access to Take Action Training here https://www.sociallyinclined.com/takeaction