Tired of struggling with what to post on social media? The Solution...
Our Done For You Social Media!
Introducing Your Social Plan™: The Ultimate Social Media Solution for Small Businesses 🎉
A daily posting plan that combines beautiful, done-for-you content with powerful business-building prompts so you'll never wonder what to post again.
Regular price
Sale price
$37.00 USD
Unit price
per
Sale
Sold out
Digital Delivery

Our products are instantly delivered on the thank you page after checkout. You will download a PDF with a How To and all of your deliverables.
Have These Scheduled

NOTE: This bundle DOES NOT INCLUDE our best-selling scheduling software Socially Suite.

Save time with social automation. Check out our Socially Suite Dashboard where we automatically schedule these plus our MVP content for you to approve to automatically post to all of your networks.

***If you purchase BOTH a dashboard membership AND this content bundle, then we are happy to schedule it for you for free. Just reach out to us when you are ready for our help! :)
No Refunds or Exchanges

Due to the fact that all of our products are instantly delivered as digital products we do not offer refunds. Please be sure to look at the images of the product as they are a fair representation of what is included as well as read the full description. If you have any questions please reach out via chat before ordering.
We Love Feedback

We appreciate your ideas and feedback and would love to know what works best for your industry and how you have adapted the ideas to fit. Any feedback you can share will help to improve future planners.
Share
View full details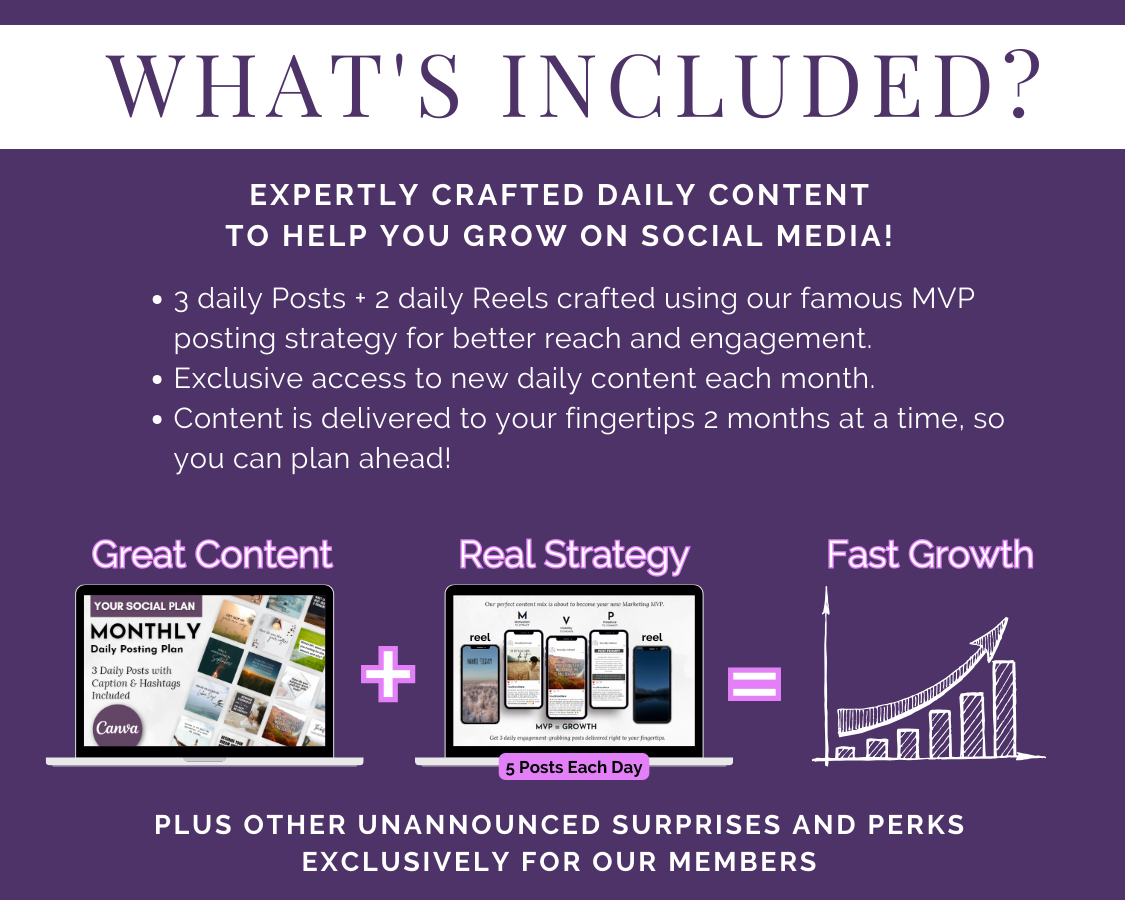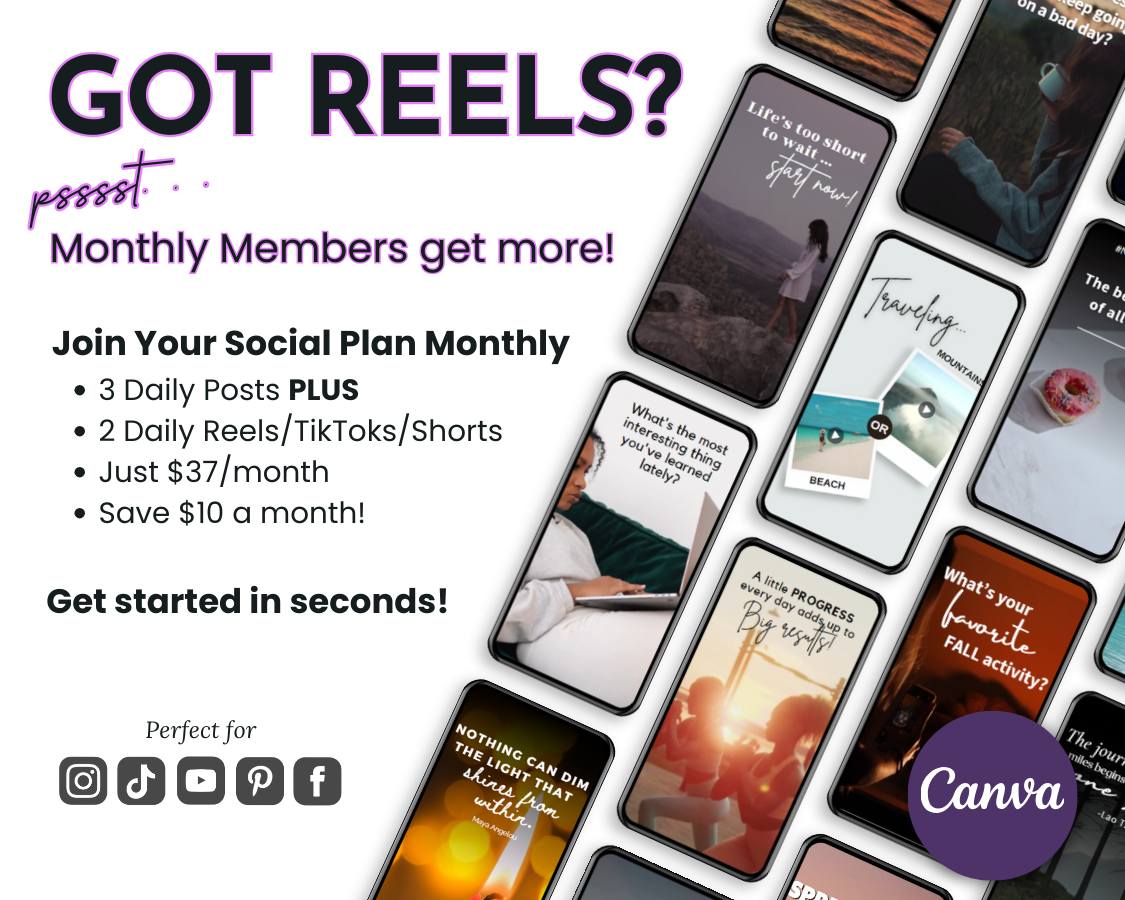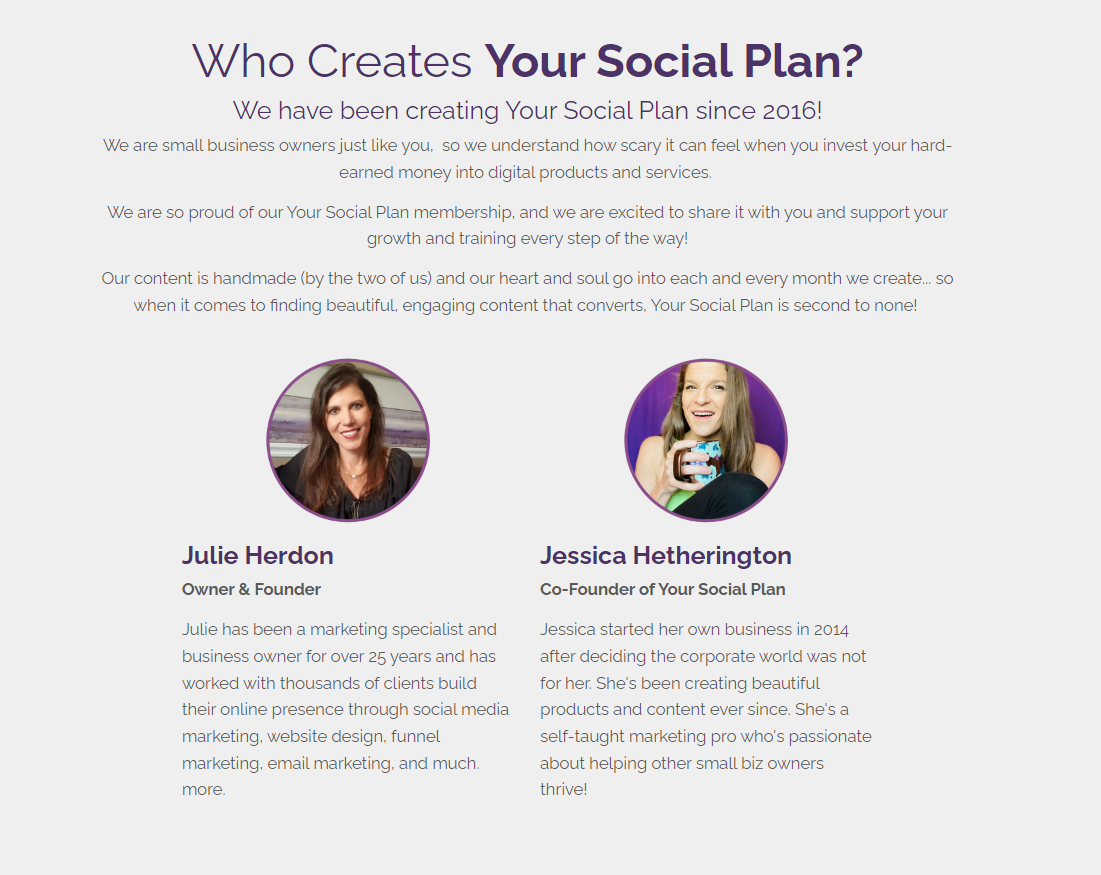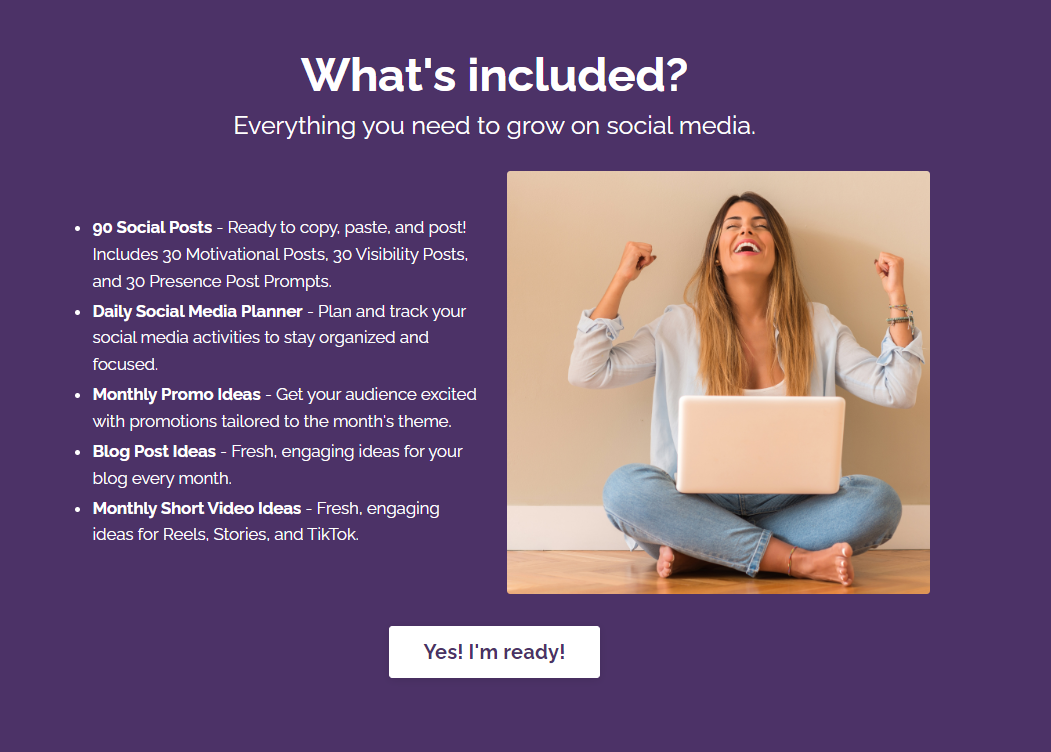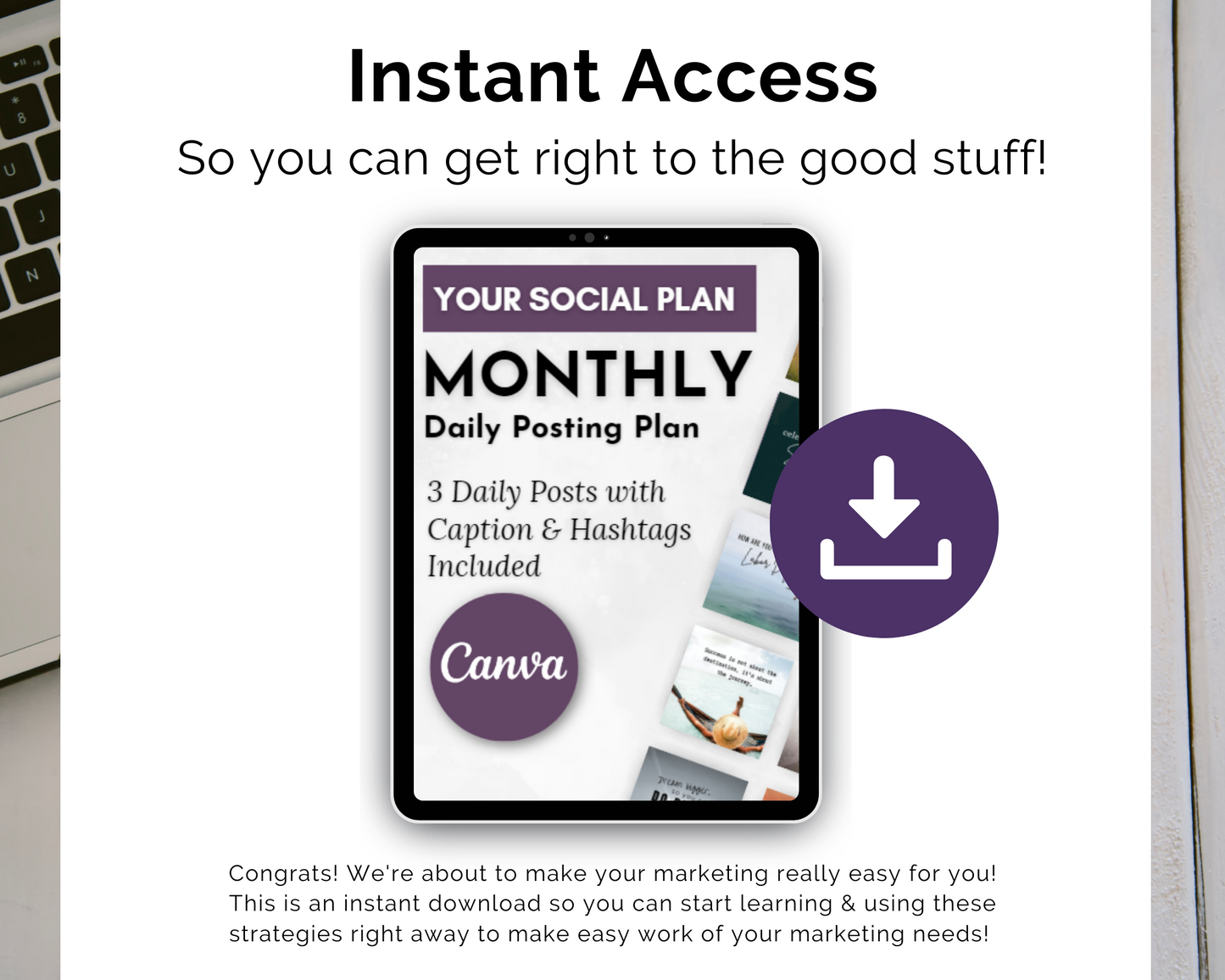 Finally, a complete social media shortcut that gets results!
Your Social Plan™ is a monthly social media posting plan that's about to revolutionize your online presence!  With a unique and powerful content formula that combines Motivational, Visibility, and Presence posts, Your Social Plan™ delivers a high-impact social media strategy that not only engages your audience but also drives growth.
Watch this Video to See What's Included in YSP
Your Social Plan Will Save You Time and Money While Growing Your Business Online!
Your Social Plan is a daily posting plan that combines TWO beautiful, done-for-you content (copy & paste) with ONE powerful business-building prompt (customize and post) every day, so you'll never wonder what to post again. We now include 2 DAILY REELS every month as well.  
Your Social Plan's content is perfect for Facebook, Instagram, LinkedIn, Pinterest, Twitter, TikTok, and more! 
A plan that gives you exactly what to post and is designed to get you more engagement!
Easy Copy & Paste posting.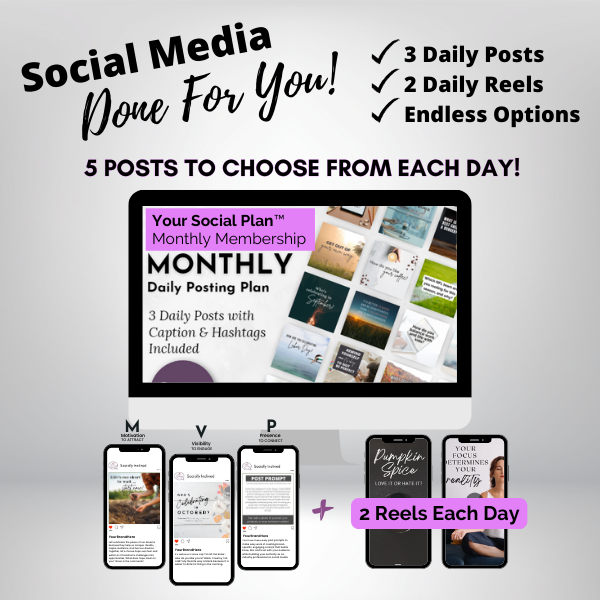 5 Engaging Posts Everyday
3 Posts + 2 Reels Every Day!
Access the same system 1000s of small biz owners have used to take the guesswork out of what to post, build a vibrant online presence, and check "social content" off that long to-do list!  
Yes 🙌 Make Social Media Easy Now!
What's Included In Your Social Plan™ Monthly?
90 Social Media Posts

Ready to copy, paste, and post! Includes 30 Motivational Posts, 30 Visibility Posts, and 30 Presence Post Prompts

60 Reels/TikToks

Ready to download and post! Includes 2 daily short videos that are perfect for YouTube Shorts, Reels, TikTok, & more!

Canva Templates

All of our content is fully editable and comes with Canva Templates so you can swap graphics, fonts, colors, & more.

Daily Social Media Planner

For our planner lovers! Plan and track your social media activities to stay organized and focused with this nifty planning sheet.

Monthly Promo Ideas

Go beyond the simple coupon each month with our 10 monthly and seasonal promo ideas that will get your followers exctied!

Monthly Blog Content Ideas

In case you need more than just post ideas, we include 10 fresh, engaging ideas for your blog every month.
But don't just take our word for it... Everyone Loves Your Social Plan™!
We have thousands of happy customers all over the world...
Seven years and counting!
💫 The MVP Strategy: Your Secret Weapon in Social Media Marketing 💫

In the world of social media, to truly stand out and captivate your audience, it's all about delivering the right content, at the right time, to the right people.
That's where our MVP Strategy steps into the spotlight.
The MVP Strategy is an innovative social media posting plan that combines Motivation, Visibility, and Presence posts. The brilliance of this approach lies in its simple yet impactful method that tailors your social media efforts to engage, connect, and ultimately grow your audience.
🚀 (M) Motivation Posts to Attract

Content designed to inspire and attract your audience, these posts help create a positive image for your brand, making you a source of inspiration for your followers. Over time, they not only attract but also retain loyal followers who look forward to your uplifting content.

🔭 (V) Visibility Posts to Engage

Content designed to actively engage your audience. These posts are cleverly designed to encourage likes, comments, and shares. This signals to the algorithm that your content is relevant and interesting, broadening your reach and getting more eyes on it.

🎯 (P) Presence Posts to Connect

Content designed to showcase your expertise, products, or services. These posts are all about educating your audience, providing value, and connecting with them on a deeper level. These posts lead to better customer relationships and sustainable growth.
Your Social Plan™ harnesses the power of this MVP Strategy to provide a balanced and effective marketing mix.
It not only follows the rule of thirds for a varied and engaging social media feed but also streamlines your marketing efforts. The result? A thriving, engaged community of followers who are genuinely interested in your business.
Ready to transform your social media game with our MVP Strategy?

Step into a stress-free social media experience where growth is not just an outcome; it's a process, and it's all done for you.
Become a Your Social Plan Member Now, and let's set the social media stage on fire together!
FAQs
Will it work for my business?

Your Social Plan™ works for ANY business and all niches. The content is created to compliment all businesses. Our clients include brick and mortar small businesses, coaches, fitness models, product/ecommerce business, network marketers, online business owners, and even people just looking to be more present on social media. 

We all know that consistency is the key when it comes to social media. We have done everything to make you successful with social media by providing you with engaging posts and images.

However, we can't guarantee specific results because they are dependent on your implementation of the program. We are confident that if you use the content and post consistently that you will see more engagement, further organic reach, and of course, more sales!!
Is the content relevant to my industry?

The #1 question we get about Your Social Plan is "Will your content work for me?" followed by the close #2 question "Is this content about my business or generic?" 

The answer to both of these questions is "Yes, our content will work for you!" and "No, it's not about your business. It's generic in nature and NEEDS to be that way!"

Here's why: The content you post shouldn't be all about you and the products you sell… it should always be about your audience and getting them to engage!

We deliver 3 pieces of content to you a day in Your Social Plan centered on our MVP strategy!

Here's how and why it WILL WORK FOR YOU no matter your niche:

Our MVP strategy is designed and proven to help you overcome the algorithm. The algorithm rewards engagement… period! So even if you have the best (fitness, skincare, real estate, candles, you name it) content around, if no one likes, comments, or shares it, no one will see it.

How do you combat this? You post with the INTENTION of getting engagement. Post things regularly that have broad appeal that compels your audience to react, comment, or even share! When there is engagement, the content is shown to more people. The more engagement THIS piece of content gets, the more people will see your NEXT piece of content!

This is the SECRET SAUCE of marketing on social today! That is what we want... to build a list of people that the algorithm understands wants to see your content.

This is why our MVP strategy is crucial to those trying to build a following on social media. When you post only niche content, you train everyone who isn't interested in seeing that content right this second (which is most people) to scroll right by your content. 

People do not want to be pitched to, guided, or sold to every single time you show up on social media! They come to social media to escape, discover, and unwind.

This is why mixing your content between our three content types, you are giving people a chance to see your content and engage with it. 

Motivational = Inspirational quotes and content
Visibility = engaging questions and holiday content
Presence = products, services, personal posts sharing your why, etc.

Notice how we just suggested that only ONE THIRD of your content be hard-and-fast niche content! YES, that is correct. No, that is not a typo. Facebook doesn't want us to use our Personal profile for business (it is actually against their terms of service).

This is just another way Your Social Plan protects you and promotes long term growth as you grow! Our content is a perfect mix to add to your personal profile since it IS more general is IN NOT all about your business! You build relationships and create know, like, and trust on your personal profile, then pull them over to your Business Page and/or Facebook Group to do business. Again there still needs to be a mix of conversational content on all profile types to keep the algorithm working for you.

Your Social Plan is made for this! There is plenty of great content to use on both personal and business accounts that will get the conversations going (and keep them going). It's up to you to stay consistent with posting the right mix of content using Your Social Plan!  
Can I customize this content?

Yes! All content & content ideas are general and should be tweaked to match your voice and style.  All images are ready to post but we do suggest customizing your images by adding your logo, web address, or other text if you haven't had the dashboard do it for you automatically.

Additionally, you can adjust the tint, text, color, or even redesign an image on the spot right inside our dashboard's Canva integration! We have easy-to-follow tutorials to show you how to do this and of course, our support team is always here to help! 
When & How is content delivered?

Our content is delivered in a secure Member's Area and provides you with a rolling 2 months of content to choose from. 


You will be directed to the Member's Area immediately after purchase and you will receive clear email instructions on how to access the Member's Area in the future. 
Can I cancel my membership?

Yes, you may cancel anytime before your next billing date. We cannot offer refunds due to the nature of the digital product and that it is delivered as soon as you purchase. Please note your purchase date as your billing will repeat monthly.

Social media is a process that requires action so we have made it as easy as possible to take advantage of our shortcuts. ​We would hate to see you miss out on all of the new content and periodic bonuses that we provide but understand that things happen.

Just click https://sociallyinclined.com/account/login to cancel anytime. Just login, click on your name in the top right, then settings, then subscriptions, then cancel. If you have any trouble, our support team is always here to help! 
Do you offer a referral program?

Yes, we sure do! It's easy to refer a product that people can see you are using. We have great incentives for affiliates and we'll pay you 20% recurring for every additional subscriber you bring to our monthly memberships.

You can sign up here:https://www.sociallyinclined.com/partners

Keep in mind, a YSP membership is for personal, single-person use. Therefore, we strongly encourage you to become an affiliate and get paid to share this content with your downline and team by having them sign up for THEIR OWN membership.

Sharing our membership content or content bundles among teams is strictly forbidden and constitutes theft. Thank you for your cooperation and understanding!
I need industry content too. Can you help?

Yes! We have an ever-growing library of niche content bundles. This is stand-alone content that comes with the graphic, post text, and hashtag. Browse our selection here.

Also, if you become a Your Social Plan PRO member, we're happy to help you load any of our niche content bundles into your dashboard. We love helping you make your life easier!
Can't I just share any image?

Nooooo, graphics are protected by copyright. To legally share these images you are required to have permission from the owner of the image.

Today, with so many people sharing other people's images you have no idea where the original came from to even ask permission. It is not worth the risk of receiving a HUGE bill from GettyImages or Adobe (trust us, they're costly and we've seen it happen)! 

The good news is that all of Your Social Plan's Content is "white label", meaning once you purchase it, you are free to use your purchase as your own content. 
Join the thousands of small businesses who have amplified their social media presence with Your Social Plan.
Don't waste another day... Get the plan to show up, get visible, & grow!